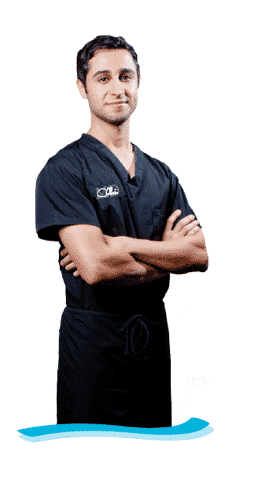 is a native of sunny San Diego, California. He earned his undergraduate degree in Biochemistry and Cell Biology at the University of California, San Diego. After graduating Summa Cum Laude he pursued research in breast cancer after which he earned his Doctorate of Medicine from the State University of New York. Prior to the start of residency

practiced as a general doctor gaining experience with a variety of surgeons in Los Angeles and Beverly Hills. He subsequently completed residency training in New York followed by Fellowship at the prestigious Mallinckrodt Institution at Washington University/Barnes-Jewish Medical Center in Vascular and Interventional Radiology.
As a vascular and image guided specialist,

has extensive experience in all facets of minimally invasive procedures including arterial disease management, varicose vein ablation, kyphoplasty, chemoembolization, radioembolization, tumor ablation, fibroid treatment, enlarged prostate embolization and many others. Being double board certified in Vascular & Interventional Radiology and Diagnostic Imaging patients can rest assured that they are receiving the most advanced care and attention to detail.

 also has extensive experience in many complex embolization and interventional treatments with special interest in uterine fibroids, prostate enlargement and vascular issues. As an expert in his field having performed over 5,000 image-guided treatments, patients receive top care in experts hands. 
While

's skills, judgment and ability to visualize the end result sets him apart from other medical practitioners, it's his youthful instincts, personalized care, and foremost concern for safety, comfort and honesty that characterizes his basic approach to delivering advanced medicine to his patients.