Frozen Shoulder
Adhesive capsulitis, or frozen shoulder, is a debilitating problem of the shoulder joint, affecting 2-5% of the population.1 This condition involves a significant reduction in the active and passive range of motion of the patient's shoulder joint.1 Frozen shoulder is more often observed in women than in men.1 Patients with thyroid disorders and diabetes are also more likely to suffer from frozen shoulder.2
Concerningly, the incidence of frozen shoulder in the general population has been increasing.1 This makes it all the more important to understand this disorder in a more comprehensive way.
Frozen Shoulder: Symptoms
As mentioned earlier, people with a frozen shoulder experience a decrease in their shoulder's range of motion.1,3 Additionally, they experience pain whenever the affected shoulder joint comes into use.1,3 The intensity of these symptoms depends on the phase of the disorder.
Frozen shoulder has three phases, starting with the 'freezing' phase, which is when shoulder pain starts along with a gradual decrease in the joint's range of motion.1 Next comes the 'frozen' phase, during which the pain gradually subsides and the stiffness of the joint plateaus.1 The third phase is called 'thawing', during which patients experience an improvement in joint motion.1
Frozen Shoulder: Diagnosis
The diagnosis of frozen shoulder takes place through physical examination and diagnostic imaging.3,4 However, depending on which phase the condition is in, frozen shoulder may be challenging to diagnose.3 Magnetic resonance imaging (MRI) presents substantial evidence to establish the occurrence of frozen shoulder.4 Specifically, MRI findings such as joint capsule thickness, scar tissue formation, and edema help confirm a frozen shoulder diagnosis.4
Frozen Shoulder: Treatment Options
Physical therapy is commonly used to manage frozen shoulder, alongside pharmaceutical interventions such as corticosteroid injections or non-steroidal anti-inflammatory drugs.2,3 Hydrodilatation and extracorporeal shockwave therapy are some other non-surgical strategies that help manage frozen shoulder.3.4
However, when non-surgical options fail to work within the first year of treatment, surgical intervention becomes necessary.4 It is important to note that surgical options, such as manipulation under anesthesia and arthroscopic capsular release, are very invasive and associated with possible complications, including fractures and axillary nerve injury.4
Frozen Shoulder: Adhesive Capsulitis Embolization (ACE)
Frozen shoulder or adhesive capsulitis embolization is a low-risk, non-surgical effective treatment alternative.5 Using a tiny catheter, an antibiotic and sometimes spherical particles are injected into the arteries in the affected shoulder capsule.6,7 The aim is to block the blood flow into inflamed areas and ease the pain.6,7 Images prior to treatment typically demonstrated abnormally enlarged blood vessels around the shoulder joint, which disappear immediately following the treatment. Indeed, this method not only reduces pain but also improves shoulder function in a safe and effective manner.5,6
In fact, improvements in the shoulder joint's range of motion can occur as early as 24 hours after embolization.7 In some cases, however, further physical therapy is required after embolization in order to gain proper joint function.7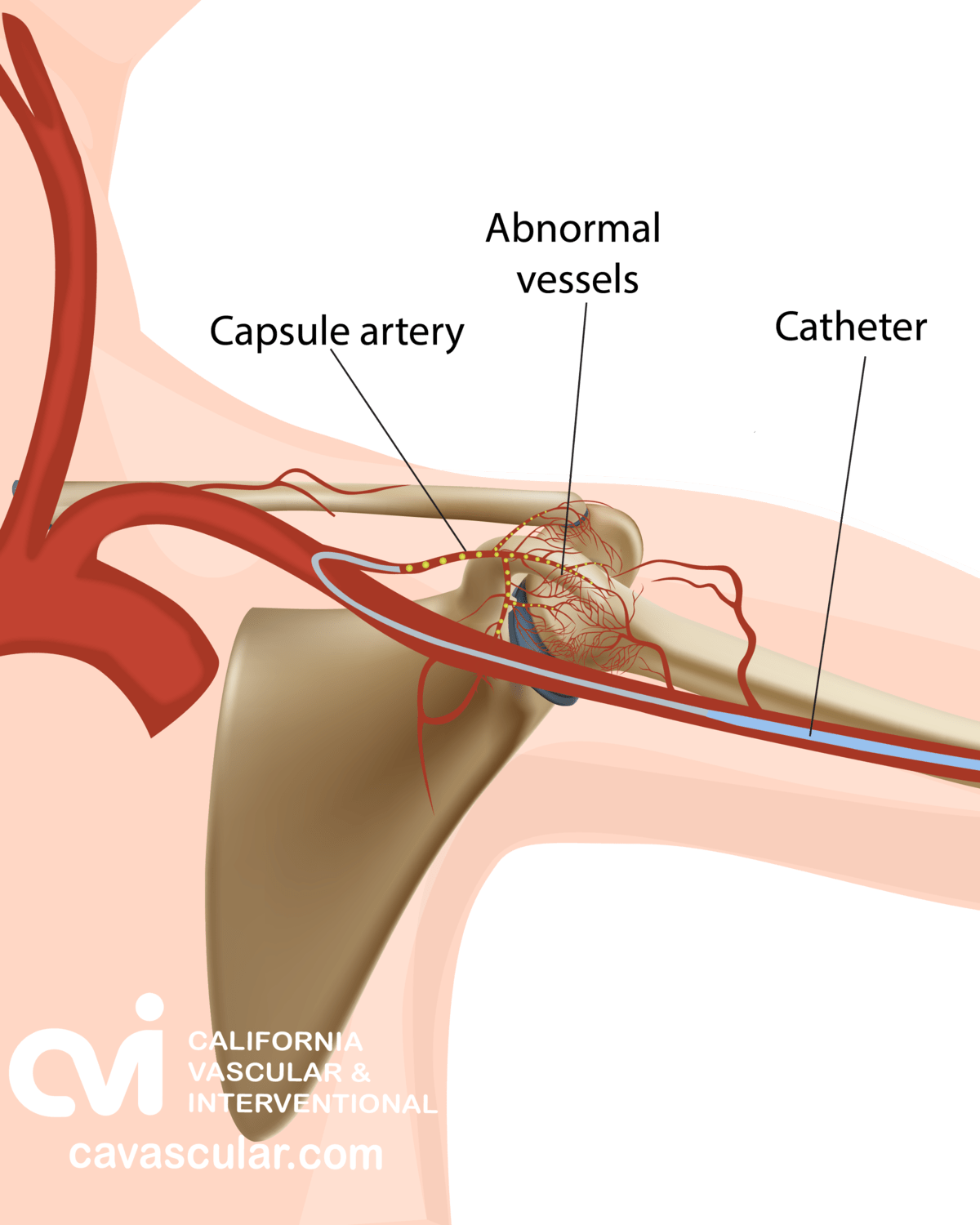 Frozen Shoulder Embolization: Procedure
Selective embolization is an outpatient non-surgical procedure with minimal downtime. The procedure is done in an outpatient state of the art center where our interventional radiologist performs the treatment through a tiny tube called a catheter. This procedure can be performed by either placing the catheter in an artery at the top of the leg (called a femoral approach) or by placing it into an artery in the lower arm (called a radial approach). The two methods are illustrated below.
The patient is given a local and topical anesthetic to numb the skin and a mild sedative, so that the procedure is not painful. A sophisticated X-ray machine that creates moving pictures in "real" time enables the doctor to see the catheter as it is guided through the blood vessels and into the appropriate arteries.
Embolization of the affected arteries is completed by injecting an antibiotic and particles into blood vessel through the catheter. The abnormal arteries become blocked with the particles, resulting in a lack of blood flow to the abnormal tissues of the joint reducing inflammation and pain.
Patients are discharged one to two hours after the treatment. As the procedure is minimally invasive, the incidence of any complications is very low. Patients might experience bruising or pain at the injection site. Some rare complications include allergic reactions, infection, bleeding/bruising, skin irritation.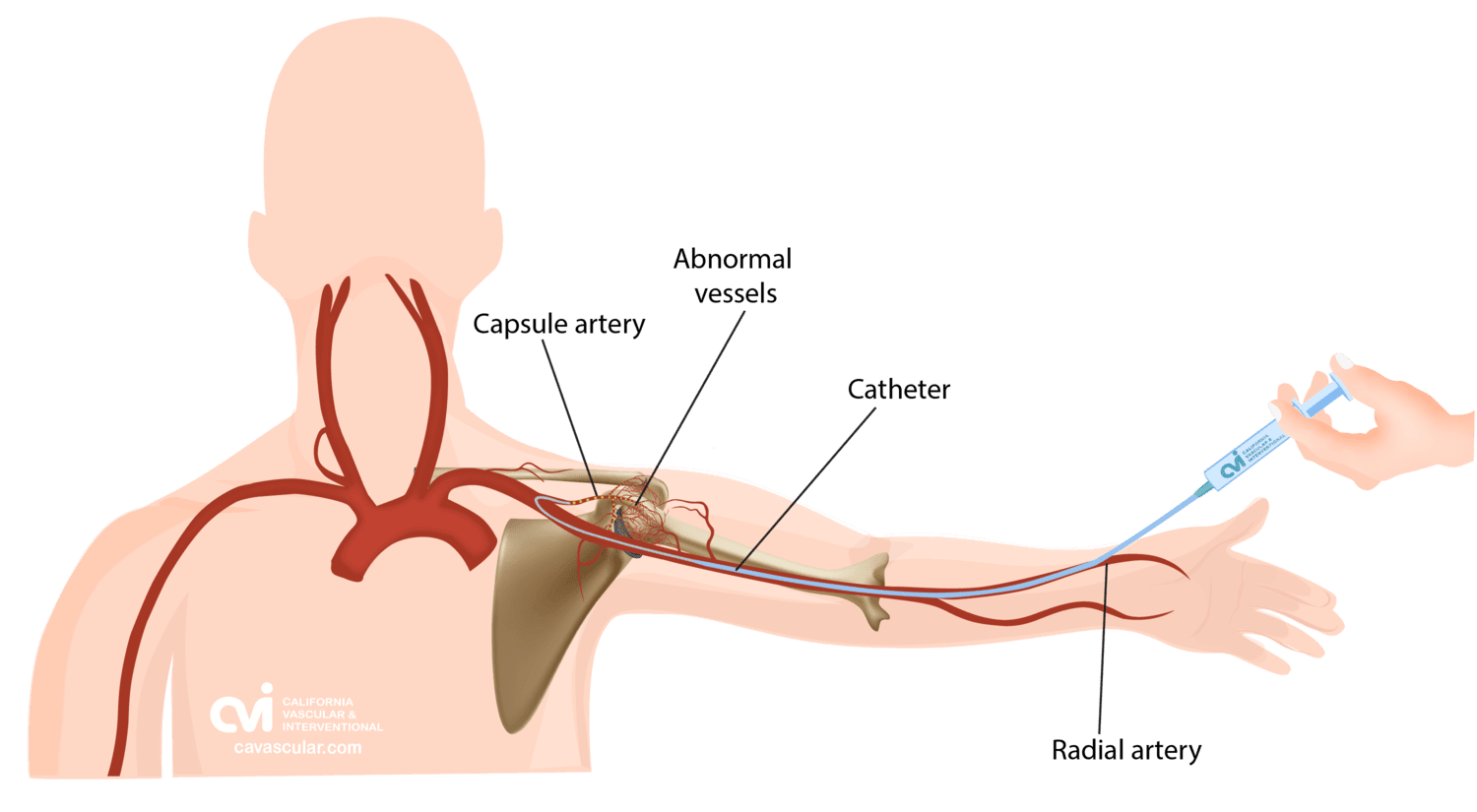 Frozen Shoulder Embolization: Preparation and Downtime
The embolization is an outpatient procedure that is about 60 minutes. To prepare, patients are asked not to eat or drink anything after midnight the day of their procedure as a mild sedative may be given to help you relax.  Patients are discharged 1-2 hours after the procedure. Most patients fly into Los Angeles the day prior to their procedure. Some patients may take ibuprofen for a couple of days otherwise there is minimal to no discomfort after the treatment. We recommend waiting a day before getting on a flight due to the light sedation you may have been given. 
Adhesive Capsulitis Embolization (ACE): Results
ACE has proven to be a successful method to treat a frozen shoulder. According to one study, pain scores, as measured on the Visual Analog Scale, decreased by 35.6% within a month of ACE.6 Six months after the procedure, the pain levels had decreased by 69.6%.6
Another study reported a complete recovery, without any recurrence, in 92.5% of the patients treated with ACE.7 Another 5% of the patients exhibited partial recovery.7 This study also reported that ACE led to an average 67% improvement in the patients' shoulder flexion and a 79% improvement in their abduction motion.7
Frozen Shoulder: What Should I Know
Frozen shoulder is a condition that causes significant morbidity in patients, sometimes for years at a stretch and has potential to cause chronic damage. Non-surgical treatment approaches are not always effective, and surgical methods are invasive and pose risks of complications. Adhesive capsulitis embolization (ACE) is an effective outpatient treatment for frozen shoulder, achieving both pain reduction and joint functionality while ensuring safety and effectiveness.5 If you are suffering from a frozen shoulder, contact us to setup a consultation with our specialist to discuss the risks and efficacies of all treatment options before making a decision.
Consultations are available via an online video telehealth platform or in person at one of the offices in Los Angeles, Orange County or San Diego, depending on the doctor's availability. Contact Us Today. Why should you choose us? Read here.
References
Cho CH, Bae KC, Kim DH. Treatment strategy for frozen shoulder. Clinics in Orthopedic Surgery. 2019; 11(3):249-57.
Mertens MG, Meeus M, Verborgt O, Vermeulen EH, Schuitemaker R, Hekman K, van der Burg DH, Struyf F. An overview of effective and potential new conservative interventions in patients with frozen shoulder. Rheumatology International. 2021; 6:1-2.
Millar NL, Meakins A, Struyf F, Willmore E, Campbell AL, Kirwan PD, Akbar M, Moore L, Ronquillo JC, Murrell GA, Rodeo SA. Frozen shoulder. Nature Reviews Disease Primers. 2022; 8(1):1-6.
Redler LH, Dennis ER. Treatment of adhesive capsulitis of the shoulder. JAAOS-Journal of the American Academy of Orthopaedic Surgeons. 2019; 27(12):e544-54.
Sajan A, Isaacson A, Bagla S. Adhesive capsulitis embolization: a case of particle embolization for refractory shoulder pain secondary to adhesive capsulitis. Journal of Radiology Nursing. 2021; 40(2):136-8.
Bagla S, Nagda S, Piechowiak R, Orlando J, Sajan A, Isaacson A. Results from a United States Investigational Device Study of Adhesive Capsulitis Embolization in the Treatment of Shoulder Pain: The Adhesive Capsulitis Embolization Study. Journal of Vascular and Interventional Radiology. 2022; 33(2):177-82.
Fernandez Martinez AM, Baldi S, Alonso-Burgos A, López R, Vallejo-Pascual ME, MT CM, Mauriz JL. Mid-Term Results of Transcatheter Arterial Embolization for Adhesive Capsulitis Resistant to Conservative Treatment. Cardiovascular and Interventional Radiology. 2020.
Contact us for a custom treatment plan