Renal Angiomyolipoma
Renal angiomyolipoma embolization is a benign tumor in the kidney, occurring in 0.2-0.6% of the population.1 Structurally, angiomyolipomas consist of three components – blood vessels ('angio'), smooth muscle ('myo'), and fat (adipose tissue; 'lipo') – in varying proportions.1
Prevalence statistics suggest that renal angiomyolipomas are twice as likely to form in women than in men.1-3 Moreover, in 20% of the cases, renal angiomyolipomas coincide with the occurrence of the rare genetic disease tuberous sclerosis complex.2
Renal Angiomyolipoma: Symptoms
Most people with renal angiomyolipomas do not exhibit any symptoms and diagnosis is often an incidental finding.4 However, less than 50% of the patients present with a combination of three symptoms.4  These include flank pain, hematuria (blood in urine), and a palpable mass in the kidney region.4
Renal Angiomyolipoma: Risks
While renal angiomyolipomas are benign, they are not without risks. Generally, renal angiomyolipomas pose a considerable risk of hemorrhage (bleeding) due to the possibility of tumor rupture.3,4 The occurrence of angiomyolipoma hemorrhage can be life-threatening.4 In rare cases, renal angiomyolipomas may also lead to chronic kidney disease.5
Renal angiomyolipomas in pregnant women pose an even higher risk.4  They grow more quickly, become invasive, and are more likely to rupture and cause hemorrhage.4 It is important to note, however, that angiomyolipomas with a low fat content are typically low-risk.3
Renal Angiomyolipoma: Diagnosis
Diagnosis of renal angiomyolipomas most commonly takes place through imaging.1 While it is straightforward to diagnose renal angiomyolipomas with a high fat content, diagnosis of low-fat angiomyolipomas can be challenging.2,3  Imaging modalities such as computed tomography (CT) and magnetic resonance imaging (MRI) easily confirm the presence of renal angiomyolipoma when fat is aggregated in bulk quantities.3
However, at least 5% of the cases of renal angiomyolipoma lack enough fat for CT or MRI alone to be able to confirm a diagnosis.3 Using both CT and MRI in combination is a good strategy for diagnosing low-fat angiomyolipomas.3 Alternatively, immunohistochemical methods can be used to establish the presence of low-fat renal angiomyolipomas.3
Renal Angiomyolipoma: Treatment Options
Surgical Options
Conventional treatment options for renal angiomyolipoma include surgical intervention in the form of radical or partial nephrectomy, removal of the kidney.2 For angiomyolipomas 4-8 cm in size, surgical intervention becomes necessary to prevent rupture and hemorrhage.4 At the same time, less invasive techniques, such as selective arterial embolization (SAE), radiofrequency ablation, and cryoablation, are also available and usually first line treatment.2
Non-Surgical Option
Selective renal artery embolization of the angiomyolipoma is a preventive outpatient treatment approach that is now the standard treatment for all sizes of angiomyolipoma. This involves placing a small tube in an artery in the leg or arm and navigating a small catheter into a branch of the renal artery near the tumor site.5,6 Small blocking agents, such as polyvinyl alcohol particles, are then injected into the blood vessels to cut off tumor blood supply.5,6  The
tumor then becomes inactive thus disabling any chance of tumor rupture or bleeding.
For renal angiomyolipomas that are too large for successful surgical removal, SAE helps shrink the tumor to make surgery feasible.5 However surgery is not necessary if the tumor is successfully embolized. Moreover, SAE is useful in emergency cases such as those involving active bleeding.
Overall, SAE is less risky compared to surgical treatments and effectively preserves kidney function.6 Plus, when angiomyolipomas pose risks due to large size or patient sensitivity, surgeons can perform SAE in a staged manner.6 This helps reduce complications and makes the process safer.6
Notably, some studies have reported a 100% technical success rate with SAE6. Others report that while SAE has a good long-term outcome, retreatment maybe necessary for large tumors.5
Angiomyolipoma Non-Surgical Embolization: What to Expect
Selective embolization is an outpatient non-surgical procedure with minimal downtime. The procedure is done in an outpatient state of the art center where our interventional radiologist performs the treatment through a tiny tube called a catheter. This procedure can be performed by either placing the catheter in an artery at the top of the leg (called a femoral approach) or by placing it into an artery in the lower arm (called a radial approach). The two methods are illustrated below.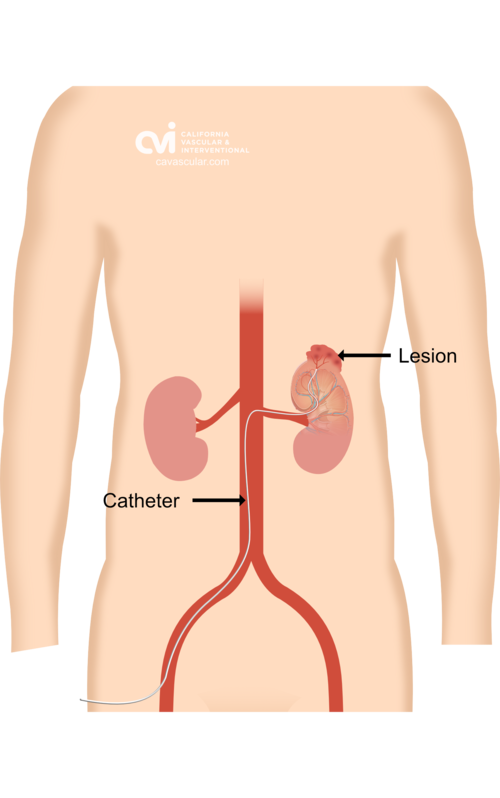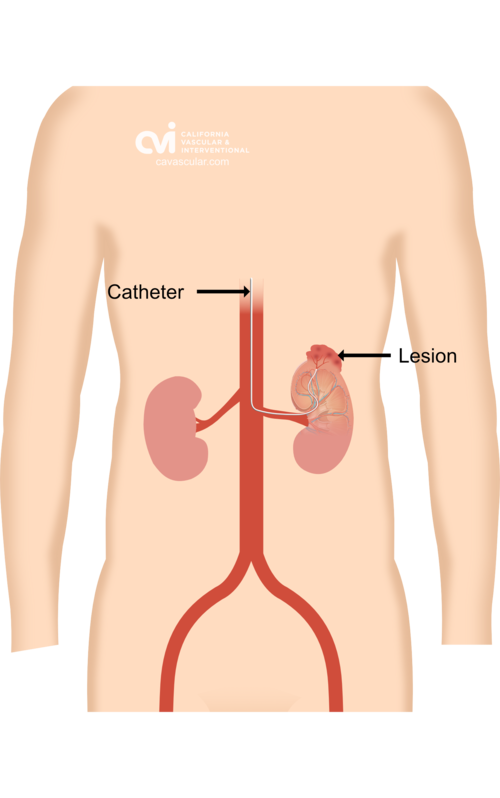 The patient is given a local and topical anesthetic to numb the skin and a mild sedative, so that the procedure is not painful. A sophisticated X-ray machine that creates moving pictures in "real" time enables the doctor to see the catheter as it is guided through the blood vessels and into the renal artery
The final step in embolization is the injection of tiny particles the size of sand particles through the catheter. The particles lodge in the blood vessels feeding the tumor and cut off their blood supply, but the normal kidney tissue is spared.
Patients are discharged one to two hours after the treatment. As the procedure is minimally invasive, the incidence of any complications is very low. Patients might experience bruising or pain at the injection site. Some rare complications include allergic reactions, infection, bleeding/bruising.
AML Embolization: Success Rate
AML embolization is known to have high success rates. In one study, AML embolization had a success rate of 91.7% with no recurrence of AML.7 The remaining 8.3% cases fail either because of technical problems (2.8%) or AML recurrence (5.5%).7
Another study reported a 91.2% success rate, including cases where a secondary reattempt had to be made to perform the embolization.8 In 83% of the cases, however, a single procedure was enough to complete the angiomyolipoma embolization process.8
Renal Angiomyolipoma: What Should I Know
Renal angiomyolipoma is a potentially dangerous benign tumor that disparately affects women. Angiomyolipoma's are asymptomatic in most cases, which makes diagnosis difficult, particularly when they are associated with low fat content. While surgical treatment may at times be necessary, non-surgical treatment methods such as embolization is now the standard treatment due to their safety and effectiveness. If you have a renal angiomyolipoma, setup a consultation with our specialist to discuss the risks and efficacies of all treatment options before making a decision.
Consultations are available via an online video telehealth platform or in person at one of the offices in Los Angeles, Orange County or San Diego, depending on the doctor's availability. Contact Us Today. Why should you choose us? Read here.
References
Vos N, Oyen R. Renal angiomyolipoma: the good, the bad, and the ugly. Journal of the Belgian Society of Radiology. 2018; 102(1).
Flum AS, Hamoui N, Said MA, Yang XJ, Casalino DD, McGuire BB, Perry KT, Nadler RB. Update on the diagnosis and management of renal angiomyolipoma. The Journal of Urology. 2016; 195(4):834-46.
Lim RS, Flood TA, McInnes MD, Lavallee LT, Schieda N. Renal angiomyolipoma without visible fat: Can we make the diagnosis using CT and MRI?. European Radiology. 2018; 28(2):542-53.
Wang C, Li X, Peng L, Gou X, Fan J. An update on recent developments in rupture of renal angiomyolipoma. Medicine. 2018; 97(16).
Anis O, Rimon U, Ramon J, Khaitovich B, Zilberman DE, Portnoy O, Dotan ZA. Selective arterial embolization for large or symptomatic renal angiomyolipoma: 10 years of follow-up. Urology. 2020; 135:82-7.
Lin L, Wang C, Pei R, Guan H, Wang J, Yang M, Tong X, Zou Y. Prophylactic selective arterial embolization for renal angiomyolipomas: efficacy and evaluation of predictive factors of significant shrinkage. International Urology and Nephrology. 2018; 50(10):1765-70.
Abouelkheir RT, El-Ksas M, Abdel Fattah S, Amer T, El-Diasty T. Efficacy and safety of selective renal arterial embolization in renal angiomyolipoma: a prospective single-center study. Egyptian Journal of Radiology and Nuclear Medicine. 2022; 53(1):1-4.
Planché O, Correas JM, Mader B, Joly D, Méjean A, Hélénon O. Prophylactic embolization of renal angiomyolipomas: evaluation of therapeutic response using CT 3D volume calculation and density histograms. Journal of Vascular and Interventional Radiology. 2011; 22(10):1388-95
Contact us for a custom treatment plan