What is Interventional Radiology (IR)?
Interventional radiology (also known as IR) is a distinct specialty in medicine that provides alternative treatments to open surgery for many medical conditions. These treatments use advanced image-guidance that allows for minimally invasive treatments resulting in faster recovery, smaller incisions, and less pain.
By harnessing the power of advanced imaging (ultrasound, X-rays, CAT scans, MRI scans and other innovative methods), interventional radiologists can see inside your body and treat complex conditions—even cardiovascular disease and cancer—less invasively and with unprecedented precision.
Why Interventional Radiology?
Reduced risk.
Less pain.
Shorter recovery times.
IR procedures can be done as outpatient, can reduce the length of hospital stays, minimize potential complications from open surgery and save lives.
Through a tiny incision in your skin the interventional radiologists deliver precise, targeted treatment to complex and sometimes life-threatening diseases and conditions. IR treatments are a well-accepted choice for conditions such as cardiovascular disease, stroke, cancer, uterine fibroids, varicose veins and many other common and serious medical issues.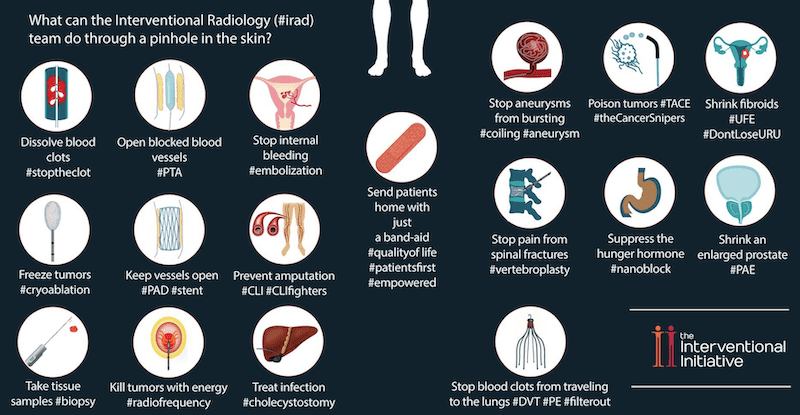 Who is an Interventional Radiologist?
An Interventional Radiologists is a board-certified physician who has specialized training in both diagnostic imaging and minimally invasive image guided therapies. An IR physician is trained to combine unparalleled medical imaging expertise with advanced technologies to tailor a solution to your problem or condition in the least invasive way possible.